Greetings @gsoc-mentors! As you are probably aware, as I post this message we're just over an hour away from when Google will send out email notifications to accepted students. Once that notification arrives in inboxes, it's officially time to start mentoring, and you can communicate with accepted students about project plans. (You may also have a student or two who were not accepted with whom you may want to follow up, which is great.)
5 Next Steps for Mentors
Check and double check: You should already be set up on the GSoC webapp, so double check to make sure the correct mentorship team is listed for your relevant student project(s). If someone else needs to be listed, have them click the "Want to Mentor" button. If someone is listed and shouldn't be, please send a private message to @gsoc-admins and your sub-org admin. Google doesn't have a way to indicate which mentor is the "primary", so make sure your sub-org admin knows which mentor is the primary mentor for each project. Remember, you should avoid being the primary mentor for more than one project.

Review student next steps: We are sending out a note via email to all accepted student applicants, sharing key information in this post, which you should also quickly review. Please note, students will be posting weekly "blog posts" and "scrum" style updates here on the OSC Hub in the #programs:mentorship category – we encourage you to encourage them to share those same updates in your communities as well, using whatever methods your sub-org admin feels most appropriate.
Make a plan: One of the best things you can do during the community bonding period this month is help your accepted student create a project plan with key milestone dates. Otherwise, help them to feel like they "fit in" to your community and help them think of other ways the can be a regular member of your org. If you feel your student is not engaged enough to continue with the program at the end of this month, please reach out to your sub-org admin to discuss next steps.

Save the dates: Please take a moment to note down these very important dates in your calendar of choice: June 1: First day for student project work; July 1: Mentors' phase 1 evaluations due; July 29: Mentors' phase 2 evaluations due; September 5: Mentors' final evaluations due. Remember that only one evaluation can be be submitted per project, typically by the primary mentor. These dates may appear as a little earlier than Google deadlines, which allows us time as an umbrella org to make sure everyone has their evaluations submitted on time.

Review the guides: If you haven't yet done so, please be sure to review the GSoC Mentor Guide at https://google.github.io/gsocguides/mentor/ – it's compiled with years of experience of veteran mentors with great tips and advice. Finally, please take 4 minutes and review this video we made with tips for being a great mentor: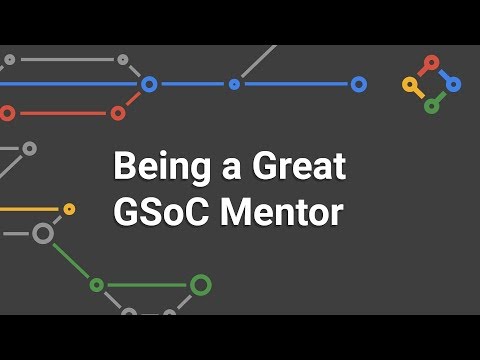 That's all for now! We wish you all the best for a productive community bonding period this month. If you have any concerns, please contact your sub-org admin, or if needed send a private message here on the OSC Hub to @gsoc-admins. Stay healthy and happy!