Hello Everyone,
I am Keshav Sethi GSoC student at Public Lab (DIAL). I have been working at Public Lab for past two months i.e May and June. May was the community bonding period and June was the official coding Period. At Public Lab, I have been working on the Spam Management Dashboard. This project focuses on the improvement of the Spam management dashboard https://publiclab.org/spam2 (alternate spam Url) and makes the user interface much more refined so that it becomes easier for moderators to approve or mark some posts as spam. This will consist of core features like Bulk moderation, Daily/weekly digest, advanced tables, flagged comments/posts review, My queue review, moderation rules revisions, and other relevant information, finding old inactive accounts/spam and removing them and better automatic way of spam detection, Insight section, and better UI. All these features will make moderation easier and faster for moderators and improve the quality of the content at Public Lab.
For Past few weeks, I have been blogging my progress at publiclab.org you can find all my blogs at https://publiclab.org/tag/keshav
This is link to my planning issue https://github.com/publiclab/plots2/issues/7885
This is the list of blogs of past month i.e JUNE
This is Screenshot of the latest version of spam Managemen dashboard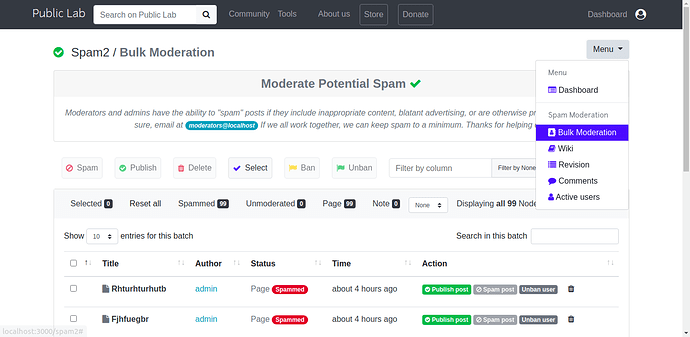 I will add write future blogs here as well
Thanks!!