Our OSC team knows that many open source communities and ecosystems with whom we work are struggling to adapt their revenue streams and business models in light of the COVID-19 pandemic. We wanted to make you aware of this upcoming opportunity from the Nairobi-based BRCK organization, in hopes that you may find & share some interesting content during the event:
COVID-19 is an unprecedented disruption to businesses worldwide. Most businesses are struggling to stay afloat in the wake of this pandemic and implementing different strategies and tactics to do so.

We would like to invite you to BRCK's first ever webinar where we will discuss and share which strategies we are implementing to sustain our business and how we are contributing to flattening the curve. We welcome you to share your experiences as well as exchange ideas on how we can collectively combat this.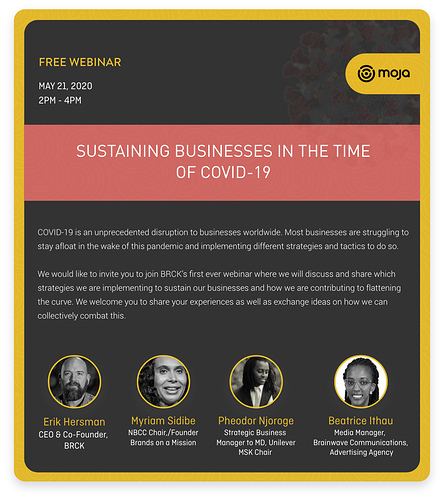 RSVP by email so the organizers can send you a Calendar invite and a reminder before the event.
Join via Zoom on May 21 at 2pm EAT by simply clicking this link: https://bit.ly/BRCKevent