Congratulations to the @gsoc-participants accepted to work with our DIAL Open Source Center sub-organizations. We are excited for the projects you will be working on this summer, and are eager to do everything we can to make your experience rewarding and fun.
Please read all of the information below carefully – it won't take too long, and it has important next steps for you to be successful. We've also created a 2-minute video summarizing some of this information. Start by taking a quick look and then continue reading below.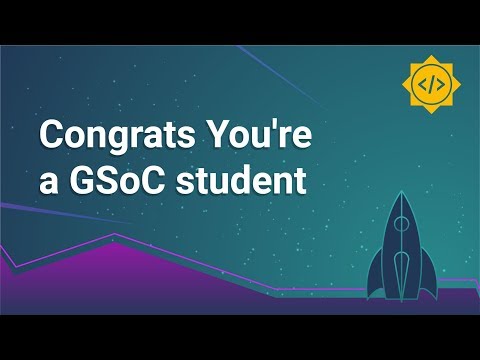 Next Steps for Accepted Participants
Contact your mentor(s) immediately. The GSoC web site will let you know a tentative list of mentor(s) are associated with your project. These may still be adjusted in the coming days. Find out which person is serving as the "primary" mentor, your first point of contact for questions. Any other mentors listed are there may be "backups" in case you need additional answers or resources. Make a plan to communicate with your mentor(s) regularly. Open source projects communicate in the open, so plan to keep any direct/private communication to an absolute minimum. You are now part of your sub-org's developer community, and your mentors want you to feel like part of the team! You should plan to use some combination of public chat tools, discussion forums, mailing lists, and any of the other public communication tools your sub-org community already uses. Your mentors may guide you in how to tag or label or otherwise organize your communications to make it easier for them and others to keep track of things. Listen to their advice and follow it. You can see a list here on the DIAL Community Hub of all of our @gsoc-mentors, and their associated sub-orgs.

Prepare a detailed project plan together with your mentor(s). Browse the current code specific to your project, and review the requirements for your project together with your mentor. Your plan should include "SMART goals" and you should schedule milestones for each week, to make it easier for you to understand if you are on track or might need to adjust dates as the summer goes on. Publish your project plan using tools already used by your sub-org community, such as wikis, forums, web sites, etc. (Your mentor can let you know the best place to publish your plan.) Project plans are "living" documents, so if you need to adjust the dates, talk about it with your mentor first, and then make appropriate updates throughout the summer.

Get ready to start working on your project. Review any documentation or bugs/issues in the backlog related to your project. You can also use this time to participate in community meetings, or work on some initial bugs or feature development, or work on some other general bugs and issues in your backlog. Remember, you generally shouldn't begin your project until the official start date! Ask your mentor for guidance with these activities through the rest of this month.
Participant Weekly Report and Blogging Requirements
As a reminder, every week during the program, accepted participants must write a "blog post" style update about their project and post it by the end of that week (23:59 Sunday AOE). You'll start a running topic here on the DIAL Community Hub in the #osc:mentorship category with a quick introduction of yourself and your project, and then each week reply with either a copy of (or a link to) the update that you've prepared for that week. This could be a written post, or could also include screenshots or videos. You should ask their mentors if they want the same "blog post" cross-posted in your sub-org's community somewhere (for example, web site, blog, forum, mailing list). Writing each week helps the larger community learn about the work you are doing, and also helps DIAL org admins make sure that you're still on track to pass succesfully.
Make sure your weekly update here also includes a weekly "standup" report for your mentor. (Your mentor may ask you to do this as part of the "blog post", or separately.) As part of this section of your weekly update post, you will answer three questions: one about the past week's accomplishments, one about the upcoming week's plans, and one about any place you may feel stuck. You should also share these reports with your mentor, to be used in 1-on-1 conversations during the week ahead. Mentors may request your also post this "standup" report somewhere in their specific community (forum, mailing list, chat, etc.).
Remember to post your update here on the DIAL Community Hub each week, as well as anywhere else your mentor says. Failure to do so may result in your removal from the program, and nobody wants that!
Get started: Each accepted participant should click here to create that topic now. Fill in brief answers to the questions and click "Create Topic". Bookmark the page once you're done, because you'll need to come back each week to reply and update.
Additional Ideas, Tips, & Advice
If you don't already have one, consider setting up a personal blog for your work on open source projects, including GSoC and your sub-org. You should try to use open source solutions like WordPress (hosted or deploy your own) or try a static site on GitLab. Share your blog's URL with your mentor(s), and perhaps with others in your sub-org if it seems appropriate. You may want to add it to your social media profiles, too. You can cross-post your weekly updates that you write here on the DIAL Community Hub to your personal blog to keep a permanent record of your exciting project work, and you can also post other interesting things you learn about open source software development. If you don't already have them, you may also want to set up a social media account to share your open source work. Consider federated open source tools like Mastodon!

As directed by your "primary" mentor, also be sure to CC any designated "backup" mentors in all communications about your project. Unless you hear otherwise, don't worry about over-communicating with your mentors – they will figure out how to filter and organize your communications so they can easily keep track of things. By remembering to CC your backup mentor(s), it will be easier for them to understand what's going on when they need to help.

Finally, if you feel stuck and aren't making progress by communicating with your mentors, your DIAL org admins are here to help. Send a private message here on the DIAL Community Hub to @gsoc-admins, or send an email to osc-support@dial.community. We will be sending out messages applicable to all of our umbrella org participants from time to time during the summer, so you'll hear more from us then.
Once again, congratulations! Now go celebrate, share the news to your friends and on social media, and then send a note to your mentors to get things rolling. Good luck!